Storm Point (Yellowstone National Park)
Storm Point (Yellowstone National Park)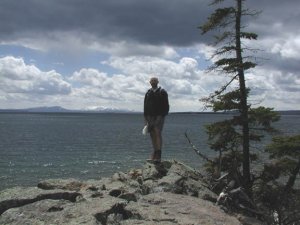 Location
How to Get There
This hike is located in Yellowstone National Park, North Western Wyoming.

To get to the trailhead: Drive east from Fishing Bridge Junction for 3.1 miles. Park at the Storm point trailhead next to Indian Pond.
Region
Yellowstone National Park
Hike details
Distance
1.50 [Miles] Total
Hike Distance- Details
1.5 miles total for the loop.
Time-details
It took us about 1.0 hours.
Elevation Change
0 Total gain/loss [Feet]
Hike Trail Type
Out and Back
Season
Season Details
Summer to Fall.
Date Hike completed
June 05, 2002
Solitude
Solitude Details
Even though this is an easy hike, there weren't many people on this hike. Expect 10-15 people on this hike.
Difficulty
difficulty detail
35 yr old Recommendation: This is a nice quick hike near the Lake Hotel. This is an Easy hike.
Permits
Be Aware of
Entrance fee to get into Yellowstone National Park, bear area
Hike to Storm point in Yellowstone National park
From the trailhead, take the left fork to walk along Indian Pond and quickly into a timber forest. After 0.75 miles of hiking, you reach Storm Point, which is a point jutting out into Yellowstone Lake. Storm Point was living up to it's name when we took this hike, see the picture below.
Continue along the loop trail after storm point as the trail walks along the lake for 0.5 miles before turning back towards the road. The final 0.25 miles walks through a nice meadow and to the road, which you need to walk along to reach your car.
Map