Elephant Back Mountain (Yellowstone National Park)
Elephant Back Mountain (Yellowstone National Park)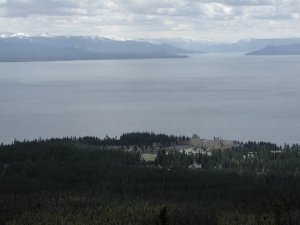 Location
How to Get There
This hike is located in Yellowstone National Park, North Western Wyoming.

To get to the trailhead: Drive south from Fishing Bridge Junction for 0.7 miles. Park at the Elephant back trailhead.
Region
Yellowstone National Park
Hike details
Distance
4.00 [Miles] Total
Hike Distance- Details
4.0 miles total for the lollypop loop.
Time-details
It took us about 2.0 hours.
Elevation Gain
750 Total Elevation Gain [Feet]
Elevation Details
About 750 ft gain.
Hike Trail Type
Lollypop Loop
Season
Season Details
Summer to Fall. This may have snow on it if hiking early in the season.
Date Hike completed
June 05, 2002
Solitude
Solitude Details
Fair. This is a popular hike, so expect 30-40 people.
Difficulty
difficulty detail
30 yr old Recommendation: This is a nice quick hike near the Lake Hotel. This is an Easy hike.
Permits
Be Aware of
Entrance fee to get into Yellowstone National Park, bear area
Hike up Elephant back mountain in Yellowstone National park
From the trailhead, follow the well marked and well traveled trail to the Northwest up the forested Elephant Back Mountain side. About 1 mile into this hike, the trail splits. Either direction is fine, because the hike loops back to this point. Turning right here is the more gradual climb.
At the top, you are rewarded with the views of the Lake Yellowstone area. There are a few benches here and this is a very nice spot to relax. When ready, take the opposite direction to finish the loop and return to the trailhead.
Map