Mount Scott (Crater Lake National Park)
Mount Scott (Crater Lake National Park)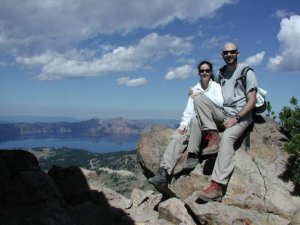 Location
How to Get There
This hike is located in Crater Lake National Park, southern Oregon.

From the south entrance to the park, drive 4.0 miles to the Rim drive road. Turn right here, driving an additional 12 miles to the well signed trailhead parking.
Hike details
Distance
5.00 [Miles] Total
Hike Distance- Details
Five miles round trip
Time-details
It took us three and a half hours. We stopped at the top for some lunch and to appreciate the views .
Elevation Gain
2,200 Total Elevation Gain [Feet]
Elevation Details
about 2200 ft gain to the top
Hike Trail Type
Out and Back
Season
Season Details
summer and fall are best
Date Hike completed
July 05, 2005
Solitude
Solitude Details
We saw about 20 other hikers. This is one of the better hikes to get away from the crowds of the park.
Difficulty
difficulty detail
30 yr old Recommendation: The tallest mountain in the National Park is an excellent point to ponder Crater Lake. This is a Moderate hike.
Permits
Be Aware of
Entrance fee to get into Crater Lake
Hike Mount Scott near Crater Lake National park
This hike takes you to the tallest mountain within the Crater Lake National Park. From the well signed trailhead, take the trail south around to the back side of the mountain. 
The trail gains elevation steadily and the trail is in good shape. Views start when the trail starts up the back side of the mountain. As you climb the pumice covered peak, you will notice a number of the mountains in the area. On a clear day, you may be able to see Mount Shasta in California. 
The main attraction of this hike is observed in all it's glory at the top. Crater Lake is the remains of a volcanic mountain that erupted and exploded, falling back in upon itself. Over the years, this crater has filled with clear snow water, making one of the deepest lakes in the United States.
The fire observation tower at the top has a number of nearby viewing points of the surrounding views. It makes an excellent place for lunch. When you have exhausted your camera, return the way you came.
Map