Paria River Canyon (Buckskin Gulch and Wire Pass)
Hot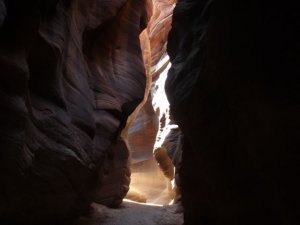 Location
How to Get There
This hike is located in the North East corner of Arizona, North West of the Navajo bridge crossing.

WIRE PASS TRAILHEAD: From Flagstaff, take US Highway 89 toward Page, AZ. Take HWY 89 west out of Page, AZ for 35 miles. Just after milepost 26, turn left onto a dirt road (House Rock Valley Road). The trailhead is about six miles down this road. There is no water at the trailhead.

WHITE HOUSE TRAILHEAD: From Flagstaff, take US Highway 89 toward Page, AZ. Take HWY 89 west out of Page, AZ for 30 miles. Turn left at the sign for White House trailhead (between mileposts 20 and 21). The trailhead is 2 more miles on a well graded dirt road.
Region
Grand Canyon and Marble Canyon area
Hike details
Distance
20.00 [Miles] Total
Hike Distance- Details
20 miles. This is a one way hike that requires a shuttle.
Time-details
It took us two days.
Elevation Change
1,600 Total gain/loss [Feet]
Elevation Loss
800 Total Elevation Loss[Feet]
Elevation Details
about 800 ft decent to the river
Hike Trail Type
One way - Shuttle
Season
Worst Season
January
February
June
July
August
December
Season Details
Late Spring. Stay away during Monsoons in the Summer!
Date Hike completed
April 12, 2008
Solitudue
Solitude Details
There were several other hikers, but the canyon is structured such that you rarely see them. There are probably 30-40 other people in the canyon at any one time.
Difficulty
difficulty detail
Hiking through the slot canyons is an amazing experience. Being able to put one hand on each wall of the canyon and look up 200 ft to the canyon wall gives you an impressive perspective on hiking through canyons. Footing can be tricky and walking through the cold water in the shade tests your endurance. This is one of those hikes you will be talking about for months afterwards. This hike is Strenuous.

Sorry, grandma can't come. You probably want to leave the kids at home too if you're making this a multi-day hike. A day hike with kids partially into the canyon would be OK.
Permits
Be Aware of
multiple river crossings, mud, flash flood danger, permit required, and depending on the time of year you may have mosquitoes and biting flies.

WARNING: Make sure you put the permit sticker in your car windshield before you head out... the fine is steep if you don't!
Hike and backpack through the Paria River area, Arizona.

This is an impressive hike through the premier slot canyon. We took a full pack with the intention of camping two nights in this area. We first made reservations with the BLM (435) 688-3200 or on the web atwww.blm.gov/az/st/en/arolrsmain.html. This is a critical step as overuse has hurt this area in the past and there are stiff fines for not procuring a permit before hiking. We dropped a car at the White House Trailhead, which is after milepost 20 on HWY 89. The dirt road to the left goes 2 miles to the trailhead.
We started our hike in Wire Pass, which features the most awe inspiring narrows on the hike. This would be a good destination for a day hike, however there is something truly spectacular about hiking through narrows like this for several days. Wire pass empties into Buckskin gulch, which provides much of the same scenery. Take a right to follow Buckskin gulch down the canyon. Buckskin gulch contains much more of the impressive high wall canyon.
There are many muddy pools (often cold) that you will need to wade through in Buckskin gulch. As you hike though this canyon, imagine trying to find safe high ground in the event of a flash flood. You will soon realize it would be impossible. In fact, there is only one real place to get out of this slot canyon in an emergency. The emergency exit is about halfway between Wire Pass and the Paria River. It would not be an easy extraction.
After a long bit of hiking, you will have to navigate one scramble down a rock fall. There are multiple paths, so be patient and you'll find the best one. This can change with the periodic flash floods, so you may need to be creative. Last time we were here, there were two fixed ropes and some moki steps cut into the rock to choose from.
After 14 miles of walking, you will reach the confluence between Buckskin Gulch and the Paria River. We camped here not because of the scenery, but because of exhaustion. On another visit, we stopped about 1/2 mile down canyon from the scramble described above. There are a few good campsites in this area.
The next day, we went left up the Paria River Canyon and to the car we left at White House Trailhead (7 miles from the confluence). What a hike!
Map