Peralta Canyon (Freemont Saddle)
Hot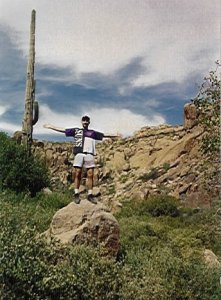 Location
How to Get There
This hike is located in the Superstition Wilderness East of the Phoenix area.

From the Phoenix area, take US-60 East, leaving the city limits. After leaving Apache Junction, continue about 8.5 miles, turning left onto signed Peralta Road (FR 77). After starting out as a paved road, this quickly turns into a well maintained dirt road. The trailhead and parking appears after 7 miles on this road. The trailhead has a restroom, but no water.
Region
Superstition and Mazatzal Wilderness
Hike details
Distance
5.00 [Miles] Total
Hike Distance- Details
5.0 miles round trip.
Time-details
It took us two and a half hours with a 30 minute stop at the top for exploring and lunch.
Elevation Change
1,400 Total gain/loss [Feet]
Elevation Details
about 1400 ft slow ascent to the view
Hike Trail Type
Out and Back
Season
Best Season
January
February
March
April
October
November
December
Date Hike completed
January 02, 2003
Solitudue
Solitude Details
This is a very popular hike. Don't expect much solitude here. Once at the top, you can find a semi-secluded place along the rim. Expect to meet 100-130 people on this hike during a weekend.
Difficulty
difficulty detail
Continuous climb through fun desert to a great view of Weavers Needle. This is an easy hike. Although the elevation change isn't tremendous, but is gradual. This is a good desert hike near the Phoenix area.
Permits
Be Aware of
Steady elevation gain.
Hike up Peralta canyon to Freemont sadle in the Superstition wilderness, Arizona.
This hike features a well marked trail, wonderful Superstition Wilderness desert, and a great view of Weaver's Needle. There's several trails that start at the Peralta trailhead. Make sure you pick the trail that says "Peralta Trail" (left at the initial sign).  This trail stays near the bed of Peralta Canyon, occasionally crossing the wash. As you continue your climb, you will eventually reach a saddle that marks your turn around point. You'll know it, because as you approach the saddle, the imposing Weaver's Needle comes into view. Snap a few pictures and head back.
If you liked this hike, you might want to try some of the other hikes in the Superstition Wilderness. For example, the Duchman Trail (TR104) to Dripping Springs starts here, as well as the Lost Goldmine Trail.
Map