Shaw Butte
Hot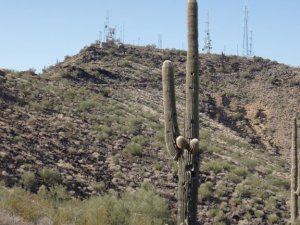 Location
How to Get There
This hike is located Phoenix, AZ.

In the Phoenix area, take I-17 North to the Thunderbird Road exit. Turn right(East) and go 2.5 miles to Central Ave. Turn right (South) on Central Ave and go 0.25 miles to the parking area on the right. This parking area can get crowded at peak times so try to go early. There is no parking allowed in the neighborhood nearby so if you can't find a spot right away, you may have to wait until one opens up. There is water at the trailhead, but no toilets.

There is an alternate trailhead at 12950 N. 7th street that you can use if this parking lot is full. It accesses the Shaw Butte trail from a different point and adds about 0.4 of a mile to the hike.
Region
Phoenix Area and Central Arizona
Hike details
Distance
4.10 [Miles] Total
Hike Distance- Details
4.1 miles for the loop hike described below.
Time-details
The trail took about 1 hour and 30 minutes to complete.
Elevation Change
700 Total gain/loss [Feet]
Elevation Details
About 700 ft gain.
Season
Best Season
January
February
March
April
October
November
December
Date Hike completed
April 15, 2013
Solitudue
Solitude Details
Not on this hike. Due to it's proximity to the Phoenix area, this is a popular trail. Expect to share the trail with 25-50 other people.
Difficulty
difficulty detail
This would be a good hike if you didn't want to travel far or work hard for a decent mountain peak view. This trail is Moderately difficult.
Permits
Be Aware of
Some route finding
Hike Shaw butte near Phoenix, Arizona.
From the parking area, take the well signed trailhead for trail #306 going to the right. Although you can take this loop in any direction, we took the trail in a counter-clockwise direction. If you are worried about making the correct turn, check the map below.
The #306 trail starts on a service road (closed to everything except state vehicle traffic) so it is wide and easy to follow as it climbs steadily up to Shaw Butte. After 1.4 miles of hiking and 700 ft of climbing, you will reach a small spur trail to your left that leads up to the top of Shaw Butte, where you can share views of Downtown Phoenix, North Mountain, and Lookout Mountain with all the radio, video, and cell antennas. After enjoying the views, backtrack to the #306 trail and continue for another 0.1 miles to a trail junction (JCT 1L on map). Turn left here, staying on trail #306. This section starts the descent on the other side of Shaw Butte. After about 0.4 miles of hiking, you'll see the former site of the Cloud 9 restaurant. The Cloud 9 restaurant burned in 1963 and was never rebuilt. Spend a few moments checking out the views here as well before continuing another 0.1 miles to another trail junction (JCT_Cloud_9 on map). This trail junction is a bit tricky as there are several spur trails, so follow the sign for trail #306 here. From here, the trail narrows to single track as it switchbacks down the mountain for 0.7 miles. At the bottom, you'll reach a junction of trails #306 and trail #100 (JCT 5L on map). Stay left again, following the sign for #306. Looking straight ahead, you can see North Mountain. Following trail #306 another 0.3 miles will reach another trail junction (JCT 7L on map). Keep following the signs for trail #306 at the next couple of signed trail junctions, as there are many spur trails in this area.  Eventually trail #306 loops all the way back to your parked car at the Central ave. trailhead.
Enjoy! 
Map