Kiwanis-Ranger Loop (South Mountain)
Hot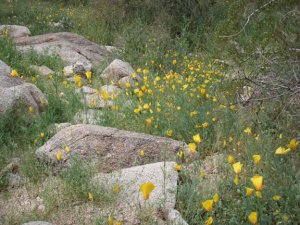 Location
How to Get There
This hike is located near Phoenix, AZ.

To get to the trailhead: From the Phoenix area, take Central Avenue south into South Mountain park. Once you enter the park and after passing the stone buildings that mark the visitor center, drive the Summit Road for 0.6 miles. Turn left at the signed intersection (following the signs for the Kiwanis Trailhead). The Kiwanis trailhead parking is another 0.7 miles. Drive slowly on these roads and watch out for bikers, hikers, and runners on the road.
Region
Phoenix Area and Central Arizona
Hike details
Distance
4.40 [Miles] Total
Hike Distance- Details
The hike described is 4.4 miles for the loop hike described.
Time-details
This hike took about 2 hours.
Elevation Change
1,000 Total gain/loss [Feet]
Elevation Details
About 1000 ft elevation gain.
Special Features
Wild Flowers
Rating details
March is also nice for wildflower season.
Season
Best Season
January
February
March
April
October
November
December
Date Hike completed
January 03, 2008
Solitudue
Solitude Details
You won't experience too much solitude on this hike. Expect to share this trail with 20-30 other hikers.
Difficulty
difficulty detail
The views of the area are great... too bad you have to share them with so many other people. The loop described here is a Moderately difficult hike.
Permits
Be Aware of
crowds, trail runners, road crossings
Loop hike with the Kiwanis and Ranger trails in South Mountain park in Phoenix, Arizona.
From the parking area, take the Kiwanis trail directly into snake canyon. The trail work done here is quite impressive and snake canyon gives your eyes some entertainment as you climb up. The climb up is mostly mellow, with some switchbacks as you get closer to the road and the National trail. Turn around once in a while to see a nice view of downtown Phoenix framed in the canyon walls. After about a mile, you'll reach Summit Road and the signed trail junction for the National trail (Jct 1 on map). Cross the road and take the National trail as it continues to climb. As you near the top of the ridgeline, there is a neat stone building to rest at and enjoy the views. The National trail heads West along the top of the ridgeline. The views along this section of the trail are great in all directions. After another 1.3 miles of hiking along the National Trail, you'll reach the junction with the Ranger trail (Jct 2 on map). Turn right onto the Ranger trail as it switchbacks down to the floor of the valley. You'll cross Summit road again (Jct 3 on map) and pass the signed junction to the Bajada trail going left (Jct 4 on map) before you turn right onto the Los Lomitas Loop trail (Jct 6 on map). This will lead you directly back to the parking area.
Map