Ribbon Falls
Hot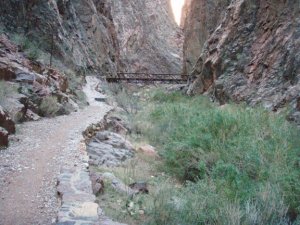 Location
How to Get There
This hike is accessed from either Bright Angel campground or Phantom Ranch. You can hike in via the Bright Angel trail or the South Kaibab trail. Alternatively, you can reach this area from a river rafting trip on the Colorado River. This canyon is located at river mile 88 on river right. Yet another way to see this waterfall is via the Cottonwood campground, which is reached by hiking the North Kaibab trail from the North rim of the Grand Canyon. From the Cottonwood campground, Ribbon Falls is accessed by an easy 1 mile walk downstream of the campground.
Region
Grand Canyon and Marble Canyon area
Hike details
Distance
11.40 [Miles] Total
Hike Distance- Details
11.4 miles round trip (to the waterfall and back)
Time-details
It took us about 5.0 hours total.
Elevation Change
2,400 Total gain/loss [Feet]
Elevation Loss
1,200 Total Elevation Loss[Feet]
Elevation Details
About 1200 ft gradual ascent.
Hike Trail Type
Out and Back
Season
Season Details
All year

Special Considerations for Fall and Winter hiking!
Date Hike completed
January 31, 2009
Solitudue
Solitude Details
Not so good during the Spring to Fall season. This corridor is among the most heavily traveled hiking in the entire Grand Canyon area. In the winter you can expect some solitude, as the North Rim access is closed. When I did this hike in January, I only saw 1 other hiker.
Difficulty
difficulty detail
35 yr old Recommendation: If you have a rest day at Phantom Ranch or Bright Angel campground, this hike is a wonderful way to enjoy the area.
Permits
Permit Info
This is a day hike for those who have already hiked down to Phantom Ranch for a multi day trip
Be Aware of
Creek Crossing
Hike to Ribbon falls in Grand Canyon national park, Arizona.
So you're at Phantom ranch waiting for the next group of rafters to hike down so you can continue your river trip. Or perhaps you've hiked down the Bright Angel trail, camped at Bright Angel Campground, and you're looking for a hike to explore the area. Here's a good way to stretch your legs and still enjoy some nice scenery without too much climbing.  
Ribbon Falls is a lovely oasis located about 5.7 miles up the Bright Angel canyon from Phantom Ranch. There has been a great deal of trail work on this section of the North Kaibab trail, so it makes for easy walking.
From Phantom Ranch, this trail heads north through an area known as 'the box' because the canyon narrows significantly and the trail crosses the creek a few times while staying high off the river. This section of the trail is especially enjoyable, as you'll be walking on a narrow trail above a perennial creek for several hours. There are also some bridges to cross the creek that add to the experience.
After this section the canyon starts to widen. Eventually, Ribbon Falls will be visible to your left across Bright Angel Creek. There is a sign on the trail pointing to 'Ribbon Falls bridge access'. If the water in the creek is high (or you don't feel comfortable rock hopping across the creek), continue on the North Kaibab trail to reach the bridge. Unfortunately, there is a healthy hill to climb and then descend to get to the bridge crossing. It is less work to take the faint trail to the left that heads directly to Ribbon Falls. There are a number of places to cross the creek without getting your feet wet. The trail to the base of Ribbon falls is more rocky and requires some minimal bush whacking to reach.
Ribbon falls is an excellent reward for your effort. The water falls onto a huge rock, completely covered in moss. There is also an alcove to your right to explore to give a different view of the waterfall.
When ready, return the way you came.
Map